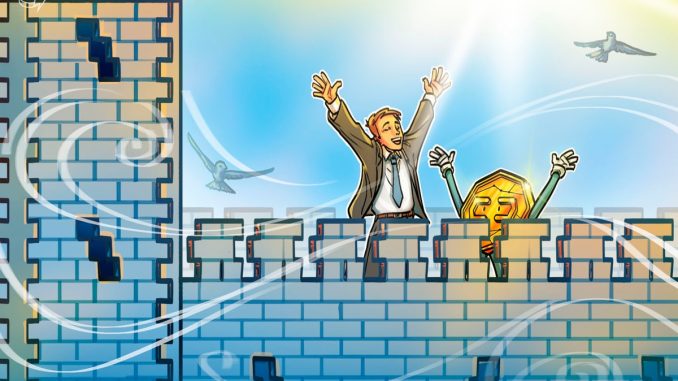 ARK Invest CEO Cathie Wood believes that digital wallets and blockchain tech were among the "game-changing innovations" that the equity markets largely ignored in 2022. 
In a Jan. 12 blog post on the ARK Invest website, Wood suggested that the equity market faced a "wall of worry" in 2022, caused by fears of entrenched inflation and higher interest rates and largely ignored some innovative technologies.
Wood highlighted that digital wallets are "replacing cash and credit cards," noting that they overtook cash as the top transaction method for offline commerce in 2020.
Further arguing that digital wallets should not be overlooked, Wood noted that they also accounted for approximately 50% of global online commerce in 2021.

After the most difficult year ever in the equity market for innovation-based strategies, we just sent our clients this letter highlighting the breakthrough technologies that already are transforming the world. In our view, innovation solves problems! https://t.co/YdBiIZhY0D

— Cathie Wood (@CathieDWood) January 13, 2023
Wood suggested that the recent collapse of crypto exchange FTX hasn't affected the larger mission of what public blockchains were intended for. She noted:
"Public Blockchains like Bitcoin and Ethereum have not skipped a beat in processing transactions."
Wood highlighted how the FTX collapse educated crypto investors to be more diligent with where they store their crypto assets, saying that the share of trading volume on decentralized exchanges, which allow for trading without a central intermediary, rose 37%, jumping from 8.35% to 11.4%.
Wood said she has never, in her "30 years working in portfolio management," experienced such unstable market conditions, saying she has never seen "markets this dislocated."
The CEO suggested that the economy is facing a challenging situation, with a decrease in money supply, a decline in commodity prices and the "unwinding" of bloated inventories, which indicate a slowdown in inflation and possibly even deflation.
Related: Visa dreams up plans to let you auto-pay bills from your crypto wallet
Wood noted in the report that the fear is high in investors stating that investors are holding "high levels" of cash not seen since the 9/11 crisis in 2001.
Other "game-changing" innovations that Wood believed the equity market "largely ignored" in 2022 included artificial intelligence, electric vehicles, space exploration and 3D printing.
She believes that despite the uncertainty in the market, disruptive innovation technologies that "solve problems" have historically "gained share during turbulent times."