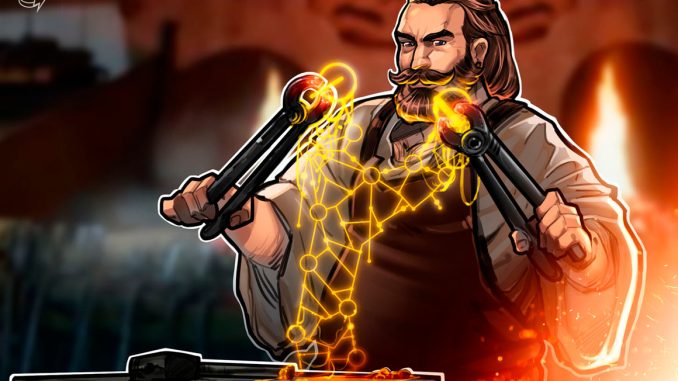 Establishing responsible cobalt sourcing practices has become a major focus of attention for human rights groups, environmental researchers and others in recent years.
 In the Democratic Republic of Congo, or DRC, where over 70% of the world's cobalt is sourced, experts have cast a spotlight on severe human rights risks across many mining operations. Meanwhile, under-regulated deep-sea mining to extract cobalt and nickel has sparked profound concern amongst experts about its environmentally destructive impact.
A new announcement by world-leading miners Glencore, CMOC and Eurasian Resources Group, together with battery material supplier Umicore, suggests corporate actors are looking to blockchain technologies to provide an at least partial solution to these problems.
The four companies will pilot a blockchain solution called Resource in real-world operating conditions: tracing the mineral from cobalt production facilities in the DRC to downstream electric vehicle production sites. The pilot will run until the end of this year, with a roll-out of a finalized solution slated for 2022. Whilst blockchain has significant potential to improve transparency and monitoring, Glencore CEO Ivan Glasenberg said:

"Traceability is not enough on its own, it must be part of a wider industry effort to bring improvements to the entire cobalt supply chain. This starts with responsible sourcing compliance, for example through RMI [Responsible Minerals Initiative]; the collective use of wider ESG [Environmental, Social, and Governance] standards […]; and supporting the artisanal and small-scale mining sector in the Democratic Republic of Congo sector through multi-stakeholder initiatives like the Fair Cobalt Alliance."
RelSource is a solution initially launched by the three miners back in 2019, with Umicore later joining together with an unnamed electric vehicles producer. The system uses zero-knowledge-proofs alongside blockchain and has been developed by blockchain studio Kryha, which has already worked on applications for carbon footprint and metals tracing in the past, as well as collaborating with the World Economic Forum.
RelSource is also directly connected to the Global Battery Alliance, or GBA, Battery Passport Project, as its three founders are all GBA members.
As previously reported, leading auto manufacturers such as Volvo and Mercedes Benz have also been working with a blockchain startup called Circular to pilot the use of blockchain to improve traceability for cobalt, with an emphasis on carbon emissions reduction.