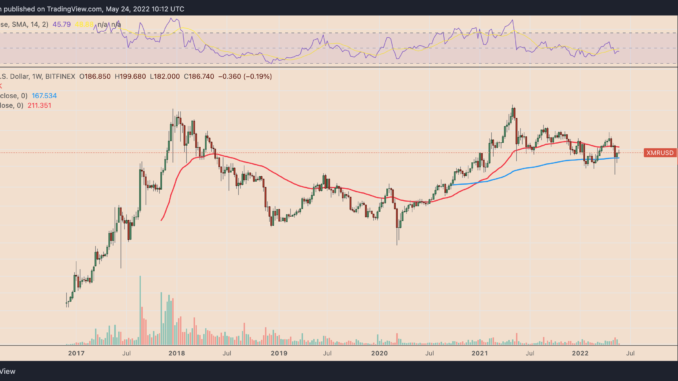 The crypto market has been in decline over the past six months with its valuation dropping from over $3 trillion in November 2021 to $1.23 trillion in May 2022.
Fears over persistently higher inflation, the Federal Reserve's hawkish response to it, and the ongoing conflict between Ukraine and Russia prompted investors to limit their exposure to riskier assets. Also, their increasing appetite for the safe-havens, such as the U.S. dollar, weighed down demand for some of the top cryptocurrencies and U.S. equities.
As a result, some digital assets, such as Dogecoin (DOGE) and Cardano (ADA), fell by more than 80% from their record highs established last year. At the same time, a few tokens witnessed similar albeit dwarfed declines compared to other assets in the top-30.
These are three among those cryptocurrencies listed in random order.

Monero (-65%)
Privacy-focused cryptocurrency Monero (XMR) has suffered fewer losses than its top rivals in the space since November 2021.
XMR's price dropped nearly 40% to $186 from its November 2021 peak of around $300. The plunge surfaced as a part of a broader correction move that started after Monero reached its record high in May 2021, near $520, bringing its net downside retracement to around 65%.
XMR's limited downside prospects since November 2021 came forth amid reports that it's been used to bypass sanctions. Meanwhile, fears of strict regulations lurking over the crypto market also appeared to have boosted the speculative demand for Monero.
From a technical perspective, XMR has been consolidating in a range defined by its 50-week exponential moving average (50-week EMA; the red wave) around $211 and 200-week EMA (the blue wave) near $167, underscoring a bias conflict.
UNUS SED LEO (-40%)
UNUS SED LEO (LEO), a utility token backed by iFinex — the parent company of BitFinex exchange, has been largely unfazed by broader crypto trends.
The token continued its uptrend even as its rivals in the top-30 moved lower after November 2021; it reached an all-time high of around $8.15 in February 2022 but has since corrected by almost 40%, now trading at around $4.90.
Notably, iFinex introduced LEO in a private token sale to raise $1 billion back in 2018. In doing so, the firm wanted to alleviate the cash shortfall it had incurred after the partial fund seizure of its payment processor, Crypto Capital.
IFinex also announced that it would buy back LEO with a minimum of 27% of its consolidated revenues from the previous month, thus removing its supply from the market. In addition, the firm also committed to allocating 95% of the recovered Crypto Capital funds and 80% of the funds from the BitFinex hack in 2016 to buy LEO.
LEO's returns to date now stand around 100%. But the token appears heavily centralized, with a so-called centralized exchange whale still holding around 97% of its net supply, according to data from Santiment.
Binance Coin (-53%)
Like Monero, BNB topped out in early May as its price per token crossed over $700. Then in November 2021, the BNB/USD pair almost retested its record high before correcting lower with the rest of the market. In doing so, it wiped out more than half of its valuation, now trading around $325.
BNB serves as a utility token inside the Binance ecosystem, including the world's leading crypto exchange by volume and a native blockchain named BNB Chain. The token holders also get to submit proposals via BNB Chain's built-in governance module, which are then voted on.
Other crypto assets
Top cryptos, Bitcoin (BTC), and Ethereum's native token, Ether (ETH), have also fared better than most of their top-ranking rivals in the ongoing bear market.
BTC's price has dropped by 57% to around $29,300 from its November 2021 record high of $69,000. Meanwhile, the second-largest crypto, ETH, has plunged 60% to around $1,975 from above $4,850 in the same period.
Related: Bitcoin price coma greets Wall Street open amid signs market 'calling for rally'
Shiba Inu (SHIB) and Polkadot (DOT) are down 65% from their record highs of $55 and $0.00008760, respectively.
The views and opinions expressed here are solely those of the author and do not necessarily reflect the views of Cointelegraph.com. Every investment and trading move involves risk, you should conduct your own research when making a decision.