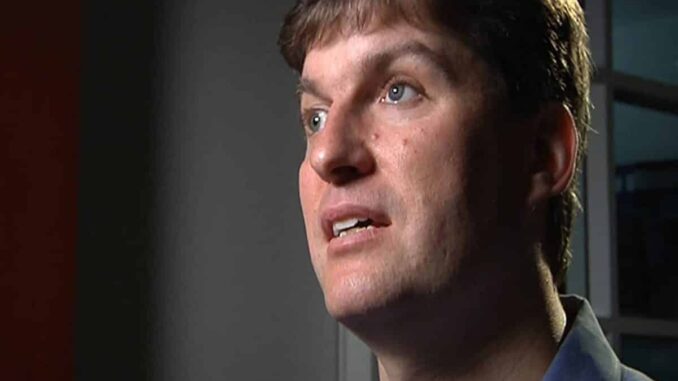 The cryptocurrency market is crashing hard today. Bitcoin is showing extremely bearish tendencies. It has fallen by more than 5% in the last 24 hours and is currently trading at $18,653. The crypto crash has prompted the expert investor, Michael Burry, to predict a 2008-level economic crisis. 
Burry was one of the few experts who predicted the 2008 housing and subprime mortgage crisis. 
Why Michael Burry Predicts An Economic Crisis
Burry's economic crisis prediction is based on multiple factors. His prediction came right after the crash in the crypto market. Over the last 7 days, Bitcoin has fallen by more than 8%. Despite a successful start to the Ethereum merge, ETH prices are showing extremely bearish tendencies. ETH has fallen close to 9% in the last 24 hours.
Other altcoins such as Dogecoin, Solana, Polkadot, MATIC, and Ethereum Classic have also fallen by 8% to 10%.
The crypto crash is only one of the factors fueling Burry's prediction. He also highlights the crash in the SPACs market. The Special Purpose Acquisition Company market peaked in 2021 but struggled massively thereafter. He also points out the crash in the meme stocks. 
One of the most important factors in his prediction is the current inflation crisis. The Consumer Price Index reveals that inflation is at record high levels. The Federal Reserve is engaging in quantitative tightening and interest rate hikes to combat inflation. 
In the recent Jackson Hole speech, Fed chair Jerome Powell asked households and businesses to prepare for pain as the Fed fights inflation. 
What Comes Next For The Economy
The US economy is going through a tough phase. Not only is it dealing with record inflation, but the threat of a recession also looms. The market will look out for the upcoming CPI release. Back-to-back inflation data showed cooling inflation. 
The CME Fed Watch tool is currently forecasting a 75 percent chance of another 75 bps interest rate hike. Another favorable CPI data might temper the Fed's aggressive stance.
Bitcoin Drops Close to Its June 2022-Low, Major Liquidations Take Place
Bitcoin, Ethereum, Cardano Plummet, Why Is Crypto Crashing Today
$LUNC Is A Lottery Ticket With No Utility, Founder Of Gokhshtein Media Says
$BTC Is Currently In A Discounted Bull Market – Bloomberg Intelligence
Breaking: 20K Staked ETH (stETH) Worth $33 Mln Removed From Curve
Breaking: Ethereum Jumps 7% As The Final Merge Upgrade Goes Live
Ethereum Classic Explodes, How Long Will The Rally Sustain
Just-In: Bitcoin (BTC) Price May Remain Below $20,000 This Year, Here's Why
Coinbase Big Reveal About The Merge, How Will This Impact Ethereum
Terra Classic (LUNC) Price Skyrockets 70%, Here's Why More Rally Is Expected
The presented content may include the personal opinion of the author and is subject to market condition. Do your market research before investing in cryptocurrencies. The author or the publication does not hold any responsibility for your personal financial loss.