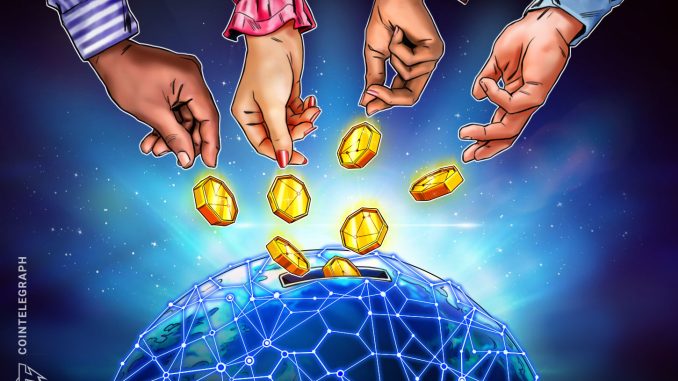 Clamping down on crypto applications that "mess with the primal forces of regulation" is necessary, says Shark Tank host and millionaire venture capitalist Kevin O'Leary, who argued that Tornado Cash and similar services are preventing real institutional capital from coming into the space.
In a discussion on Crypto Banter on Saturday, O'Leary, also known as Mr. Wonderful, suggested that applications like Ethereum-based crypto mixer Tornado Cash are a part of a "crypto cowboy" culture that shouldn't have a place in the industry.
Instead, O'Leary is of the view that crypto needs a "rules-based environment" in order to attract real institutional capital into the digital-asset industry, and much of that regulation needs to stamp out protocols like Tornado Cash, which enables users to conduct anonymous transactions and therefore potentially engage in criminal activity.
In the discussion, O'Leary didn't back down on his opinion regarding the arrest of the Tornado Cash creator Alexey Pertsev, stating:

"At the end of the day, it's okay to arrest that guy. Why? He's messing with the primal forces of regulation […] If we have to sacrifice him, that's okay, because we want to have some stability in that institutional capital."
The venture capitalist said that while institutional interest in the digital-assets sector continues to increase, "they're not going to touch it while crypto cowboys are riding the fence." O'Leary emphasized that "until we get rid of this crap," there will be no "stability in […] institutional capital," but he believes that the industry is slowly but surely weeding out the "cowboys":
"I think we're getting to that stage now. Maybe we're in the third or fourth inning towards that, but I'm tired of this crypto cowboy crap. I want to get involved in a regulated place where we can bring billions of dollars to work. I don't need to be a crypto cowboy, and I don't want to be one because I work in the regulated world."
But O'Leary's opinion flies in the face of the sentiment from many in the space. The U.S. Government's sanctioning of the Ethereum-based privacy tool last week enraged many influential crypto figures who defended the need for basic privacy rights on decentralized networks.
Gnosis co-founder Stefan George was one of those who defended Tornado Cash, stating that the protocol brings "much-needed privacy" to Ethereum and that writing open-source software should be recognized as "an expression of free speech."
3/ The Tornado Cash team is amazingly talented and brought much-needed privacy to Ethereum. Hopefully, everyone will recognize again, that writing software is an expression of free speech and tech is neutral.

— Stefan George (@StefanDGeorge) August 12, 2022
Chainlink Lead Developer Advocate Patrick Collins also said that the decision to remove Tornado Cash's GitHub account is "much worse than sanctioning a website" as code is speech and by doing so the U.S. Treasury is violating the first amendment of the U.S. Constitution.
It's gotten MUCH worse.@TornadoCash Github accounts and codebase has been entirely removed.

This is much worse than just sanctioning a website.

Code is speech, so we are potentially violating the first amendment.

Paging lawyers @adamdavidlong

— Patrick Collins (@PatrickAlphaC) August 8, 2022
Ethereum educator Anthony Sassano shared in a Tweet to his 218,000 followers that he was temporarily banned from decentralized finance (DeFi) lending protocol AAVE, after his address was blacklisted for recieving 0.1 Ether (ETH) from an anonymous person via Tornado Cash. Sassano went on to note that the "main conclusion I have come to from recent events is that Ethereum is more of a concern to governments/nation states than Bitcoin."
I think the main conclusion I have come to from recent events is that Ethereum is more of a concern to governments/nation states than Bitcoin.

The implications of this will define the next few years of this industry.

— sassal.eth (@sassal0x) August 14, 2022
Related: Tornado Cash co-founder reports being kicked off GitHub as industry reacts to sanctions
Last week, Dutch financial crime authority the Fiscal Information and Investigation Service (FIOD), arrested a 29-year-old Tornado Cash developer who was suspected to be involved in money laundering via the protocol.
According to a Dutch regulatory body, over $7 billion have flowed through Tornado Cash's smart contracts since its inception in 2019. The sanctions from the U.S. Treasury came after more claims that the protocol had increasingly been used for money laundering activities.