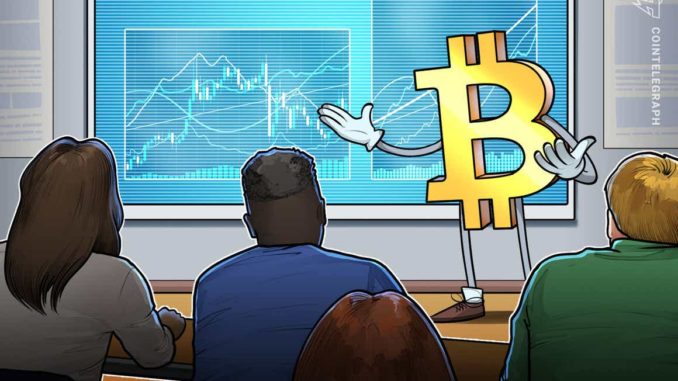 Bitcoin (BTC) traded just below $65,000 on Nov. 11 after an overnight correction canceled out previous snap gains.
"No free lunch" for speculators
Data from Cointelegraph Markets Pro and TradingView showed BTC/USD recovering after briefly dipping below $63,000 in fresh volatility.
The pair had moved up sharply on the back of United States inflation hitting its highest in 30 years, this combining with derivatives market reactions to produce uncertain price action.
With $69,000 now the all-time high, some were fearful, while seasoned market participants took the opportunity to poke fun at the weak hands.

"Why the BTC pullback from 68k? There was a massive increase in BTC margined futures open interest this afternoon (traders going long BTC with BTC as collateral)," analyst Dylan LeClair explained alongside a chart from Glassnode.
"No free lunch — these traders are in the process of being shaken out."
Fellow analyst William Clemente pointed to the upcoming Taproot soft fork as a clear reason to be bullish and discard short-term price moves.
Taproot will bring a host of protocol improvements to Bitcoin, these having no comparison to any changes since the introduction of Segregated Witness (SegWit) transaction technology.
We're days away from Bitcoin's first major upgrade (Taproot) since Segwit in 2017 and people are panicking.

— Will Clemente (@WClementeIII) November 10, 2021
Derivatives funding rates, meanwhile, served to prove that a shake-out had indeed taken place, returning solidly to the neutral territory of 0.01% across exchanges.
Ether avoids deeper altcoin retracement
In classic style, altcoins felt the heat as Bitcoin reversed, erasing what were previously returns that had outperformed BTC/USD.
Related: '#DropGold worked' — Grayscale 'flippens' world's largest gold fund as AUM hits $60B
Ether (ETH) was the most unscathed on the day, down 0.6% and still a stone's throw from all-time highs.
Others fared slightly worse, with 4% daily losses not uncommon among the top 10 cryptocurrencies by market capitalization.
"Crucial at this moment: Bitcoin," Cointelegraph contributor Michaël van de Poppe concluded in his latest YouTube update.
"Where are we going to break through? If we break through that area around $67,000, I think we're going to continue the bull cycle, and we're ready for new all-time highs to be hit."