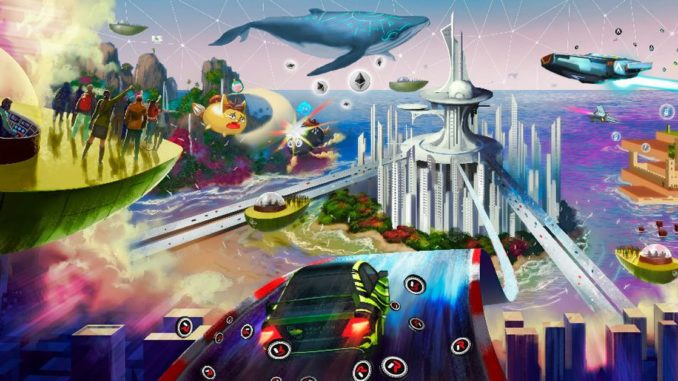 The Hedera Network, which claims to be the only public distributed ledger network suited for the security and stability requirements of big businesses, is jumping into the cryptocurrency-fueled frenzy over virtual worlds, angling to develop what it describes as "enterprise metaverse."
The HBAR Foundation, which supports development on the Hedera Network through grants, has formed a new partnership with MetaVRse, a web-based 3D creation platform, to support development of metaverse-related applications, according to a Dec. 14 press release.
The metaverse refers to the idea of digital worlds that would combine elements of augmented and virtual reality, the internet, gaming, art, culture and social networking – enabled by digital assets and distributed networks. Non-fungible tokens (NFT) play a fundamental role in the metaverse, giving people ownership of their characters, accrued in-game items and virtual land.
According to Hedera's website, the network is "owned and governed by the world's leading organizations," listing among them Google, the electronics maker LG and the Singapore bank DBS.

"The metaverse is the future of human communication, collaboration and commerce," said MetaVRse co-founder Alan Smithson in the press release.
HBAR token performance
The partnership comes at a time when sales of virtual NFT land on metaverse projects such as Decentraland and The Sandbox totaled over $100 million in the last week of November, according to a report from DappRadar.
Data from Nonfungible.com shows that there has been over $280 million in NFT sales over the last 30 days. That compares with just $18 million in September.
The wave of attention towards virtual worlds began with Facebook's rebranding to Meta in November. The announcement pushed metaverse-related tokens to all-time highs and garnered attention from large institutions, too.
The Hedera Network's native token, HBAR, has increased sevenfold year to date. That beats the fivefold gain for Ethereum's ether (ETH) cryptocurrency, but it lags far behind the much larger gains for other projects, such as the 104-fold increase in Polygon's MATIC.
The HBAR tokens have a market capitalization of about $4.2 billion, after having been surpassed this year by metaverse-related projects like Decentraland, whose MANA token has risen 35-fold this year to $5.5 billion.
'Virtual concerts and galleries'
MetaVrse provides no-code tooling for builders creating digital and interactive experiences. Its use of the Hedera network enables the assets it creates to be owned and traded across marketplaces and platforms of the builder's choice.
The HBAR Foundation fuels growth of the Hedera ecosystem by providing grants, marketing, business development to developers, startups and organizations building on the Hedera Network. According to the foundation's website, it has an initial budget of 5.35 billion HBAR tokens worth about $2.5 billion.
The partnership between HBAR Foundation and MetaVRse was launched with a plan to open up opportunities for careers in the metaverse.
In an interview with CoinDesk, Donald Thibeau, co-founder and chief strategy officer at HBAR Foundation, said he is excited to see what will be created with these tools offered, "whether that's a virtual show room displaying tokenized versions of a new product line or NFTs giving access to virtual concerts and galleries."
Hedera is a public distributed ledger that utilizes a hashgraph mechanism. Developers use distributed ledgers to build computational trust directly into their applications. Hedera focuses primarily on enterprise usage and offers 10,000 transactions per second and low fees and consumption, according to a blog post by the project. Since launching in 2018, the public network has processed over 1.75 billion transactions.