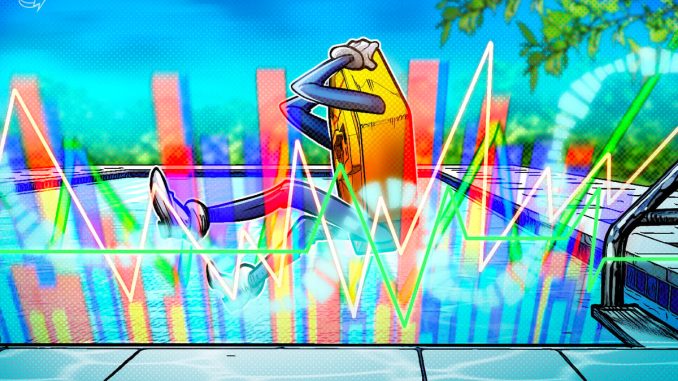 The Grayscale Ethereum Trust (ETHE) is trading at nearly a 60% discount to the underlying value of its assets, with shares falling 93% from its June 2019 all-time high (ATH).
There are many reasons behind the ongoing decline, but in recent weeks fears have grown that fallout from parent company Digital Currency Group's debt of approximately $1.675 billion to troubled crypto lender Genesis could impact Grayscale assets.
YCharts data shows a 59.39% discount at the time of writing, a level the trust has traded at since at least Dec. 28.
Crypto Twitter influencer "db" tweeted an image on Jan. 4 depicting the entire collection of Grayscale crypto-based trusts with statistics showing their respective premium.

Every Grayscale trust and their respective premium % pic.twitter.com/TYQf5FmeXt

— db (@tier10k) January 3, 2023
It showed most of Grayscale's trust funds are trading at a discount with Ethereum Classic Trust hit hardest, currently at a 77% discount, followed by Litecoin Trust at 65% and Bitcoin Cash Trust at 57%.
The Grayscale Bitcoin Trust (GBTC) is trading at a 45% discount.
Just two Grayscale Trusts are currently trading at a premium, the Filecoin Trust at 108% and the Chainlink Trust at 24%.
According to Grayscale's official website, there are currently $3.7 billion worth of assets under the Grayscale Ethereum Trust (ETHE) pool collected from 31 million shares.
The Ether (ETH) per share is around 0.0097 ETH, which is worth $11.77 USD, while the market price per share is $4.77 USD.
Grayscale's parent company, DCG, came under fire again this week when Cameron Winklevoss, the co-founder of cryptocurrency exchange Gemini, called out DCG CEO Barry Silbert in an open letter on Twitter.
Related: Will Grayscale be the next FTX?
Winkelvoss claimed DCG's company Genesis owes Gemini $900 million in funds lent to it as part of Gemini's Earn product that the two companies ran in partnership.
Digital assets research and analysis company Arcane Research suggested in a Jan. 3 report that the significant debt DCG and Genesis purportedly owe to Gemini could see DCG initiate a Reg M distribution, which would allow holders of GBTC and ETHE positions to redeem them for the underlying assets at a 1:1 ratio.
This would be bad for crypto markets but good for ETHE shares. According to Arcane: "A Reg M would cause a massive arbitrage strategy of selling crypto spot versus buying GrayscaleTrust shares. If this scenario plays out, crypto markets could face further downside."
Winklevoss has been vocal on the alleged DCG liquidity issues, previously tweeting an update in December that global investment bank Houlihan Lokey had presented a plan on behalf of the Creditor Committee to provide a pathway for the recovery of assets.