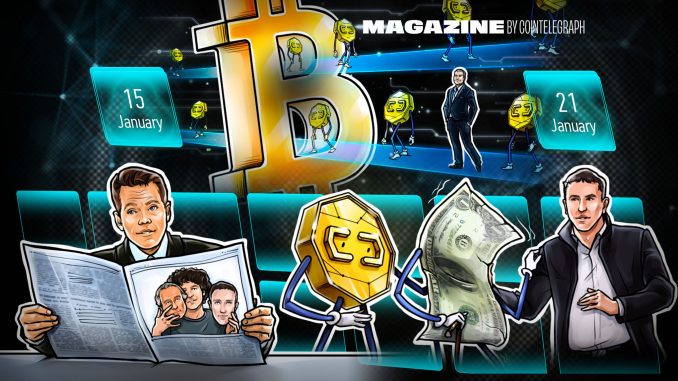 Top Stories This Week
Crypto lender Genesis files for Chapter 11 bankruptcy
FTX contagions continue to spread through the crypto industry, with Genesis Capital filing for bankruptcy protection in New York, estimating liabilities in the range of $1 billion to $10 billion, and assets at the same level. The company plans a "dual track process," which will pursue "sale, capital raise, and/or an equitization transaction" and enable the business "to emerge under new ownership." Genesis' derivatives, spot trading, broker-dealer and custody businesses are not included in the proceedings, according to the company. In an effort to maintain liquidity, Genesis parent company Digital Currency Group suspended dividend withdrawals.
Bitzlato and its founder face enforcement actions from US authorities
United States authorities have taken enforcement actions against crypto firm Bitzlato, seizing the company's website and labeling the business as a "primary money laundering concern" connected to Russian illicit finance. As part of the case, FBI officials arrested Russian national Anatoly Legkodymov in Miami. The criminal complaint claims the firm was a "crucial financial resource" for the Hydra darknet marketplace, allowing users to launder funds, including those from ransomware attacks.
FTX CEO says he is exploring rebooting the exchange
New FTX CEO John Ray, appointed before the bankruptcy proceedings, has set up a task force to consider relaunching FTX.com. He noted in an interview that everything is "on the table" when it comes to the future of FTX.com, including a potential path forward with regard to rebooting the exchange. In another headline in the case, former FTX CEO Sam Bankman-Fried has been accused of using his influence in the crypto industry to inflate some coins' prices through a coordinated strategy with Alameda Research. Bankruptcy proceedings are facing challenges, as liquidators of Alameda have suffered at least $11.5 million in losses since taking control of its trading accounts..
Iran and Russia want to issue new stablecoin backed by gold
The Central Bank of Iran is reportedly cooperating with the Russian government to jointly issue a new stablecoin backed by gold. The "token of the Persian Gulf region" would serve as a payment method in foreign trade instead of fiat currencies like the United States dollar, the Russian ruble or the Iranian rial. The new cryptocurrency would operate in a special economic zone in Astrakhan, where Russia accepts Iranian cargo shipments.
3AC, Coinflex founders collaborating to raise $25M for new claims trading exchange
Co-founders of collapsed crypto hedge fund Three Arrows Capital (3AC), Su Zhu and Kyle Davies, are trying to raise money for a new cryptocurrency exchange in partnership with Coinflex co-founders Mark Lamb and Sudhu Arumugam. According to a pitch deck, they are looking to raise $25 million. The new exchange will be called GTX, and it will target claims against bankrupt companies, allowing customers to use claims as collateral for trading. The initiative drew criticism from the crypto community.
Winners and Losers
At the end of the week, Bitcoin (BTC) is at $21,856, Ether (ETH) at $1,621 and XRP at $0.40. The total market cap is at $1.00 trillion, according to CoinMarketCap.
Among the biggest 100 cryptocurrencies, the top three altcoin gainers of the week are Frax Share (FXS) at 67.88%, Hedera (HBAR) at 45.32% and Convex Finance (CVX) at 44.01%.
The top three altcoin losers of the week are Gala (GALA) at -8.20%, Huobi Token (HT) at -6.34% and Trust Wallet Token (TWT) at -3.47%.
For more info on crypto prices, make sure to read Cointelegraph's market analysis.
Read also
Columns
Wall Street disaster expert Bill Noble: Crypto spring is inevitable
Features
Are You Independent Yet? Financial Self-Sovereignty and the Decentralized Exchange
Most Memorable Quotations
"Crypto is getting very interesting because we're finally starting to see the bear of regulation coming into play and I think, long term, that's a good thing."
Kevin O'Leary, venture capital investor
"I actually thought he [Sam Bankman-Fried] was the Mark Zuckerberg of crypto. I didn't realize he was the Bernie Madoff. And that's something I have to own. And so I own it."
Anthony Scaramucci, co-founder of SkyBridge Capital
"What I'd like to do is to see the CFTC and other regulators provide more guidance this year and I'm very hopeful that perhaps we will see more clarity in the United States."
Caroline Pham, commissioner of the Commodity Futures Trading Commission (CFTC)
"Bitcoin has just become a 24/7 VIX. It's just a trading vehicle now for large funds who want to get in and out of risk on weekends and overnight trading hours."
Jeff Dorman, chief investment officer at Arca
"The huge undertaking of [central bank] digital currencies is not worth the costs and risks."
Tony Yates, former senior adviser to the Bank of England
"I don't think DeFi is meant to attack TradFi. DeFi is supposed to complement TradFi, at least initially."
Emin Gun Sirer, co-founder and CEO of Ava Labs
Prediction of the Week 
Bitcoin eyes $21.4K zone as analyst predicts BTC price will chase gold
Bitcoin rose toward new multi-month highs, with the BTC/USD pair preserving support at $21,000, according to data from Cointelegraph Markets Pro and TradingView.
Prices moving through support or resistance are affecting sentiment, but the trading range is well defined, noted on-chain analytics resource Material Indicators. "I view the lack of BTC liquidity below $18k and above $23k as a lack of sentiment for those levels at this time," the firm wrote on Twitter.
FUD of the Week 
Silvergate reports $1B net loss in the fourth quarter of 2022
Silvergate Bank has announced a $1 billion net loss attributable to common shareholders in the fourth quarter of 2022. The digital asset bank saw significant outflows of deposits in the last quarter of 2022 mainly due to its relationship with FTX and Alameda Research. Silvergate faces a class-action lawsuit over its dealings with the crypto firms. Among the actions taken by the bank to maintain cash liquidity was wholesale funding and the sale of debt securities.
Nexo agrees to $45M settlement with SEC and states over Earn product
Crypto lender Nexo Capital has agreed to pay $45 million in penalties to the U.S. Securities and Exchange Commission and the North American Securities Administrators Association for failing to register the offer and sale of its Earn Interest product. According to the company, the regulators did not allege any fraud or misleading business practices. On Jan. 12, Bulgarian prosecutors began searching Nexo's Bulgarian offices for alleged involvement in a large-scale money laundering scheme, as well as violations of Russia's international sanctions.
CoinDesk could be up for grabs as parent company DCG scrambles for funds
A potential sale of cryptocurrency media outlet CoinDesk is being considered by parent company Digital Currency Group. Investment bankers from Lazard are helping the firm weigh options, including a full or partial sale. DCG has reportedly received multiple offers exceeding $200 million for the media firm over the last few months. DCG's venture capital portfolio comprises 200 crypto-related businesses.
Best Cointelegraph Features
How to prevent AI from 'annihilating humanity' using blockchain – Cointelegraph Magazine
Ben Goertzel has devoted his life to developing an artificial general intelligence — and outlines how he plans to massively scale blockchain to control it.
Crypto Mason's death threats from maxis: Hall of Flame
Crypto Mason is just 22, but he already has more than 1 million social media followers. And why did Lark Davis block him?
Metaverse not the endgame, but 'ongoing digital transformation': Davos 2023
Leaders in the Web3 space came together at the World Economic Forum in Davos to discuss the first outputs from the "Defining and Building the Metaverse" initiative.
Subscribe
The most engaging reads in blockchain. Delivered once a
week.