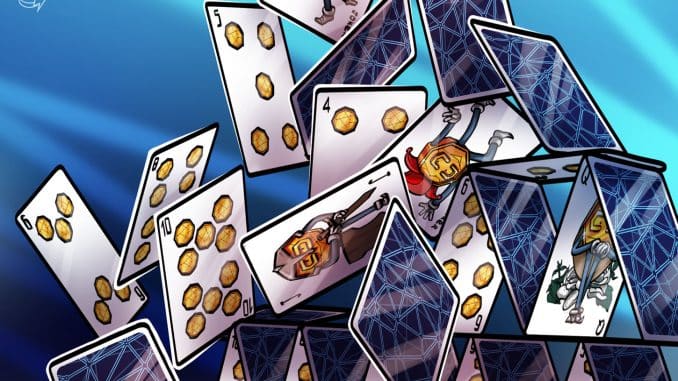 The founders behind the alleged $340 million "global Ponzi" scheme Forsage have been indicted by a federal grand jury in the District of Oregon.
The four Russian founders — Vladimir Okhotnikov, Olena Oblamska, Mikhail Sergeev and Sergey Maslakov — have been formally accused of having key roles in the scheme that raised approximately $340 million from victim-investors, according to a Feb. 22 Department of Justice (DOJ) statement.
"Today's indictment is the result of a rigorous investigation that spent months piecing together the systematic theft of hundreds of millions of dollars," said U.S. Attorney Natalie Wight for the District of Oregon, adding:
"Bringing charges against foreign actors who used new technology to commit fraud in an emerging financial market is a complicated endeavor only possible with the full and complete coordination of multiple law enforcement agencies."
Forsage had touted itself as a low-risk decentralized finance platform built on the Ethererum blockchain that allowed users to generate long-term passive income. Blockchain analytics however reportedly revealed that 80% of Forsage "investors" have received less back than they had put in.
According to the DOJ, analysis of the smart contracts revealed that funds raised as new investors purchased "slots" in Forsage's smart contracts were diverted to older investors, which is consistent with a "Ponzi scheme."
Forsage still has an active Twitter account, which posted a thread on Feb. 22 claiming that community members who participate in "The Ambassador Program" would be able to earn monthly rewards by completing certain tasks.
2/3

Pre-registration will open soon, so don't hesitate to be among the first!

The Ambassador Program is an opportunity not only to earn rewards, but also to attract new members to the team, get to know the products better and broaden your horizons in the world of Web3.

— FORSAGE (@forsageofficial) February 22, 2023
On Aug. 1, the Securities and Exchange Commission charged the four founders and seven promoters with fraud and selling unregistered securities, with acting chief of the SEC's Crypto Assets and Cyber Unit, Carolyn Welshhans, saying at the time:
"Fraudsters cannot circumvent the federal securities laws by focusing their schemes on smart contracts and blockchains."
The Philippines Securities and Exchange Commission had also flagged Forsage as a likely Ponzi back in 2020, but a month later the platform was still the second-most popular DApp on the Ethereum blockchain.
Related: Crypto, forex platform CEO pleads guilty to $248M fraud scheme
While a charge refers to the instance when a prosecutor brings criminal charges and accuses an individual or group of an offense, an indictment is filed by a grand jury if prosecutors are able to convince a majority of them that a formal accusation is warranted following an investigation.
Grand juries are common in federal and serious state felony offenses.