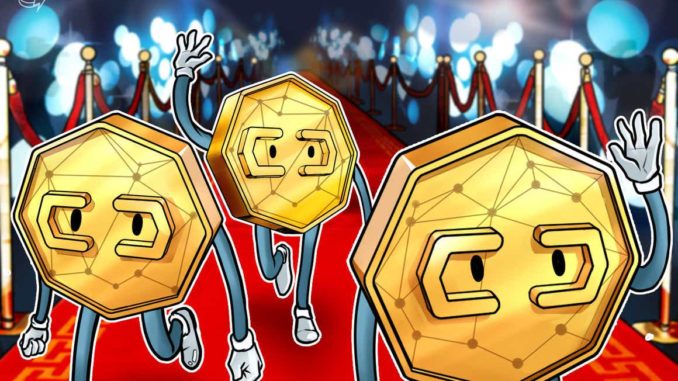 Overshadowing its glory in previous years, the crypto ecosystem managed to maintain a year-long spotlight throughout 2021. Key catalysts include mainstream adoption of Bitcoin (BTC), a meme coin frenzy driven by Shiba Inu (SHIB) and Dogecoin (DOGE), and proactive participation from popular celebrities and authority figures.
The year 2021 witnessed a greater inflow of influencers and celebrities to the space than ever before. All the way from mainstream tech entrepreneurs and presidents to rappers and reality TV stars, celebrities have gotten involved in crypto in their own unique ways. While some chose to create their own versions of crypto ecosystems and tokens, others helped spread awareness of various projects. 
As a tribute to all those who showed involvement in our world of crypto, let's check out some of the most influential celebrities that left a mark on the crypto ecosystem, in no particular order.
Snoop Dogg
Legendary rapper Snoop Dogg has always been an early adopter and promoter of technology and lifestyle merchandise. Although a little late, the musician entered the crypto space via an NFT collaboration named "Decentralized Dogg." 

Snoop's mainstream popularity has also led many token creators to market Snoop Dogg-branded cryptocurrencies over the past few years, but the musician has warned investors of having no involvement in such projects.
NEW ARTWORK RELEASEColdie x @SnoopDogg Decentral Eyes Dogg1/1 on @SuperRare Auction ends Dec 3 5p PT/8p ET

Art by ColdieExclusive audio by @SnoopDogg Coming together to keep it fun & experimental.

The final 1/1 release of the Decentral Eyes Portrait Series in the OG style pic.twitter.com/ckk71dmP5d

— Coldie (@Coldie) November 29, 2021
Nayib Bukele
As the President of El Salvador, Nayib Bukele has been the torchbearer for Bitcoin's mainstream adoption as a legal tender. In addition to playing a major role in legalizing Bitcoin and building a relevant infrastructure to support the Bitcoin economy, Bukele remains active on Twitter to announce the various Bitcoin-driven initiatives of his government. 
Despite strong initial opposition against Bitcoin's use, Bukele now procures Bitcoin every time its market value goes down. Complementing this move, the Salvadoran government has been reinvesting unrealized gains from Bitcoin to fast-track the development of the Central American country.
First steps…

#Bitcoin pic.twitter.com/duhHvmEnym

— Nayib Bukele (@nayibbukele) September 28, 2021
Elon Musk 
Tesla and SpaceX CEO Elon Musk made his mark on crypto when he started publicly endorsing Dogecoin (DOGE) back in 2020. However, Musk continues to show support for the meme coin by committing to accept payments in DOGE for various products and services offered by his companies.
As a result of Musk's support, the market price of the DOGE token has surged multi-fold despite being created for the purpose of mocking the crypto ecosystem. DOGE's popularity has also sprouted dog-based meme tokens, Shiba Inu (SHIB) being one of the most prominent. 
Watch: TIME's 2021 Person of the Year @elonmusk discusses cryptocurrency #TIMEPOY https://t.co/FfwEGxW7LX pic.twitter.com/5BXAZky0LS

— TIME (@TIME) December 13, 2021
Naomi Osaka
Naomi Osaka, a top professional tennis player from Japan, announced her entry into the crypto space after diversifying her portfolio in cryptocurrency, noticing the hype around Dogecoin.
Osaka's introduction to crypto was fueled by the crypto community on Twitter. The athlete has also launched and promoted various NFT initiatives, and in the process, has made a record as the most expensive NFTs being sold by a professional tennis player.
Lionel Messi
The international soccer legend Lionel Messi was one of the most high-profile players to get linked with the crypto ecosystem in 2021. When Messi signed the deal to join Paris Saint-Germain football club, a part of the salary package included payment in the club's fan tokens. 
Fan tokens are part of a growing sub-ecosystem that aims to increase fan engagement by allowing them to weigh in on certain club decisions. Other popular soccer clubs that have introduced fan tokens include Manchester City and AC Milan, just to name a couple.
Mark Zuckerberg
Zuckerberg's entry into crypto has been long-awaited ever since Facebook released the white paper for the Libra cryptocurrency back in 2019. Despite federal pressure to end experimentations with crypto, Zuckerberg rebranded his social media company Facebook to Meta on Oct. 28, positioning itself as an early bird of the budding metaverse ecosystem.
Meta envisions developing a centralized metaverse world that can serve as a revenue source for online creators. Following Zuckerberg's footsteps, major tech giants including Microsoft, Epic Games and Alibaba have started exploring business opportunities within the metaverse ecosystem. 
Announcing @Meta — the Facebook company's new name. Meta is helping to build the metaverse, a place where we'll play and connect in 3D. Welcome to the next chapter of social connection. pic.twitter.com/ywSJPLsCoD

— Meta (@Meta) October 28, 2021
Kim Kardashian
The buzz around crypto this year also got caught up with Kim Kardashian. The reality TV superstar marked her entry into crypto by promoting Ethereum Max (EMAX), an untested cryptocurrency token, on her official Instagram account. 
While the move to market (or rather, shill) a cryptocurrency has become common practice for influencers across all demographics, Kardashian's involvement in promoting EMAX backfired as United Kingdom's Financial Conduct Authority accused her of misleading followers by promoting speculative tokens. The FCA has also noted that scammers pay influencers to promote get-rich-quick schemes and usually end up running away with the investors' money. 
Kim Kardashian has also previously used her Instagram account to promote physical Bitcoin chips on a charity poker night out.
Soulja Boy
American rapper Soulja Boy has been one of the most vocal celebrities on Crypto Twitter in 2021. From showing support for cryptocurrencies and Bitcoin via Twitter to selling "Crank That"-branded NFTs, Soulja Boy made sure his presence was felt across the crypto community. 
The hip-hop star has publicly disclosed owning Binance Coin (BNB), Tron (TRX) and altcoins. Back in 2018, Soulja Boy released a song named "Bitcoin" and even delivered on the song's lyrics: "I made a hundred racks off of Bitcoin."
While the rapper's entry was welcomed by the community, he soon attracted controversy after allegedly revealing getting paid for promoting a yet-to-be-established crypto project.
Paris Hilton
Paris Hilton got in on the NFT wave in 2021. Despite her seemingly late entry, Hilton claims to have invested in Bitcoin and Ether (ETH) back when BTC was valued below $1,000.
Moreover, the American personality took to Twitter to introduce her two new pets, named "Crypto Hilton" and "Ether Reum."
I'm so excited about #NFTs! Here's why I think #NFTs are the future & everything you need to know to get in the game! https://t.co/mZHqsVqn9Z

— Paris Hilton (@ParisHilton) April 7, 2021
Magnus Carlsen
Chess grandmaster Magnus Carlsen is among the younger celebrities to lead the crypto adoption drive via various chess-centric events and initiatives. In partnership with Chess Champs, an NFT-collectible marketplace, Carlsen and other professional chess players competed for NFT trophies and cash prizes in Bitcoin and cryptocurrencies.
The initiatives to introduce the chess community to crypto were primarily driven by FTX, a crypto exchange founded by Sam Bankman-Fried. The Norwegian chess player is also the world's first Bitcoin chess champion, winning over 0.6 BTC in addition to a cash prize in a tournament hosted by FTX.
Special mentions
Unlike previous years, when crypto entrepreneurs and enthusiasts did most of the heavy lifting, mainstream celebrities took charge of promoting crypto by minting and selling NFTs — participating in events hosted in the Metaverse, promoting token offerings or simply showing support by purchasing Bitcoin and other cryptocurrencies.
With that in mind, we also remember some of the other popular figures delving into crypto. Special mentions include:
Randi Zuckerberg
If you think the name sounds familiar, that's because it is. Meta CEO Mark Zuckerberg's sister, Randi, entered crypto in November by joining crypto exchange Okcoin as a brand advisory council. 
Randi also posted a YouTube video titled "What Are Meme Coins and Tokens in Crypto?" where she discusses the growth of DOGE and SHIB and provides guidance to her viewers about making sound crypto investments. 
Indian film actors
For India, 2021 has been a remarkable year for mass crypto exposure, as mainstream actors participated in numerous advertising campaigns and crypto-promoting initiatives. 
The drive for greater crypto penetration in a market with over 1.3 billion people was powered by local crypto exchanges including CoinDCX, WazirX and ZebPay. The companies partnered with influential celebrities such as Amitabh Bachchan to promote crypto trading and purchases.
On the flip side, members of the Indian government proposed an anti-crypto bill that sought to blanket-ban all private cryptocurrencies without clarifying the meaning of the word "private." India still maintains a gray area when it comes to deciding on the legality of cryptocurrencies. 
Formula One
The 2021 Formula One World Championship racing saw increased participation from the crypto community as companies such as Crypto.com, FuturoCoin, Bitci.com, Socios.com and Tezos sponsored teams and supported their environmental and welfare initiatives. 
Previously, the crypto community has successfully organized numerous crowdfunding events to help NASCAR racers get back on track and participate in professional races.
The #dogecar has crashed.

TV: NBCSN pic.twitter.com/eCb1PosOI3

— NASCAR on NBC (@NASCARonNBC) June 19, 2021