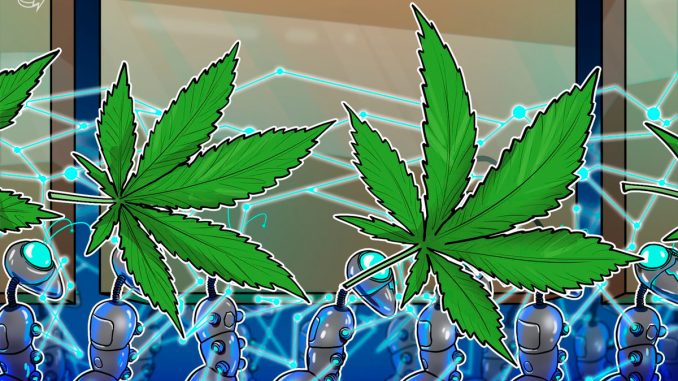 A California-based cannabis nursery has turned to blockchain and smart contracts to verify the authenticity of its medicinal plants.
The cannabis nursery, known as Mendocino Clone Company, was named in a partnership announcement from the EMTRI project and tech firm Global Compliance Applications on Jan. 13.
It will be harnessing the project's blockchain capabilities to certify all clones, or baby plants, with a batch certificate.
Cannabis nurseries are establishments that specialize in plant genetics, producing clones and baby plants and seeds for the purpose of wholesale distribution.

The move allows the nursery to "document the beginning stages of a cannabis plant's journey to becoming a premium product for consumers based on the gram weight it flowers," it stated.
The batch certificate is a self-generated smart contract for each clone batch. It provides each baby plant with its own "unique identity block," created by the nursery and linked to its Ethereum-based blockchain.
Its clients, which include commercial farms and retail dispensaries, can use this to verify the authenticity of their clones and their genetic lineage, it added.
The first round of batch certificate clones will be available starting the first week in February.
Additionally, licensed cultivators who purchase Mendocino clones will get access to EMTRI token (EMT) rewards and better rates for participating in the blockchain project.
EMT was launched in November 2022 to provide rewards for project participants. The tokens can be traded on Uniswap for USDC or staked for further yields. EMT is not listed on any centralized exchange or crypto market data platforms such as CoinGecko.
Co-founder of EMTRI Corp, Scott Zarnes, commented:
"We are excited to be at the forefront of the cannabis industry becoming the first in the United States to adopt this cutting-edge technology in this manner,"
Related: Cannabis-focused crypto startup is launching an NFT community
Combining crypto with cannabis is not a new concept, however.
In November, a cannabis-themed Metaverse project called Cannaland was launched to create a virtual world for cannabis enthusiasts. In January 2022, a custom pipe maker launched tokenized bongs with celebs like Snoop Dogg and Santana snapping up the NFTs.
Projects such as PotCoin (POT) and CannabisCoin (CANN) aimed to provide a digital currency specific to the industry as far back as 2014, but they never really gained traction.