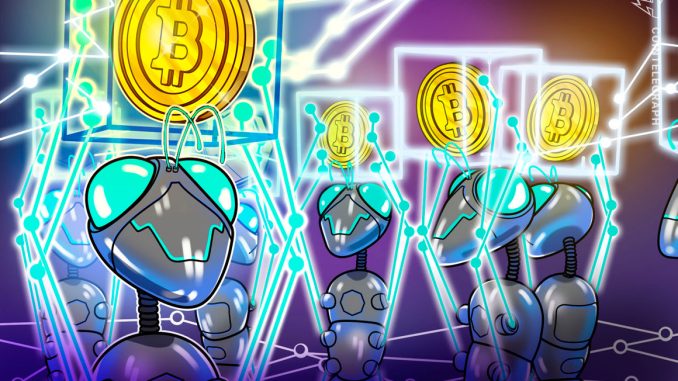 Bitcoin (BTC) and the overall cryptocurrency market sprang to life on April 30 as an uneventful close to this month's $4.2 billion options expiry occurred without any signs of controversy. 
Data from Cointelegraph Markets and TradingView shows that after a brief dip below the $53,000 support level on April 29, the price of Bitcoin staged a 10% rally back above $57,400 by midday.
The revelation from MicroStrategy CEO Michael Saylor that the company saw a 52% surge in revenue compared to the same quarter last year will likely strengthen the argument that organizations should hold Bitcoin on their balance sheet as a way to combat inflation as well as attract new investors.
Central bank digital currencies (CBDC) are also gaining traction as the Bank of England revealed that it is moving ahead with plans to launch a digital pound and the central bank of France made headlines on April 29 after settled a $100 million Euro bond using a CBDC that was hosted on the Ethereum (ETH) network.

Altcoins show significant strength
While much of the mainstream news and focus from analysts revolves around Bitcoin and Ethereum, a handful of altcoins caught the attention of traders on Friday as their prices saw double-digit gains
One of the strongest performers of the day was IoTeX which surged 75% to a new all-time high at $0.085. The blockchain project is focused on solving the issues of scalability, privacy and high operating costs which are limiting the mass adoption of the Internet of Things (IoT) ecosystem.
VORTECS™ data from Cointelegraph Markets Pro began to detect a bullish outlook for IOTX on April 27, prior to the recent price rise.
The VORTECS™ Score, exclusive to Cointelegraph, is an algorithmic comparison of historic and current market conditions derived from a combination of data points including market sentiment, trading volume, recent price movements and Twitter activity.
As seen in the chart above, the VORTECS™ Score began to climb on April 26 and reached a high of 76 on April 27 before spiking to 73 again on April 29. It's worth noting that the VORTECS™ Score hit 73  roughly 10 hours before the price spiked 75% to a new all-time high at $0.0857.
A second coin that has been performing well over the past couple of days and is now registering a VORTECS™ Score of 95 is PARSIQ (PRQ), an analytics platform that offers cutting-edge tools for the analysis of blockchain technology across a variety of industries.
Bullishness for PRQ was first detected on April 28 when the VORTECS™ Score reached the green zone. The score stayed near that level (67) over the next day and then rapidly climbed to a high of 95 on April 30 as the price of PRQ rallied higher.
A score of 95 is one of the highest scores ever registered on the VORTECS™ system, and previous instances of scores in the mid to high 90's have been shown to precede further price appreciation, as was recently demonstrated by Polygon (MATIC) this week.
Generally, altcoins rallied across the board, boosting the total market capitalization to $2.177 trillion while Bitcoin's dominance rate slipped to 48.8%.
The views and opinions expressed here are solely those of the author and do not necessarily reflect the views of Cointelegraph.com. Every investment and trading move involves risk, you should conduct your own research when making a decision.