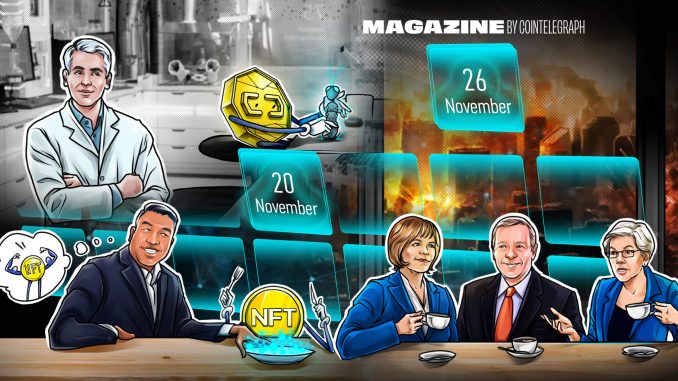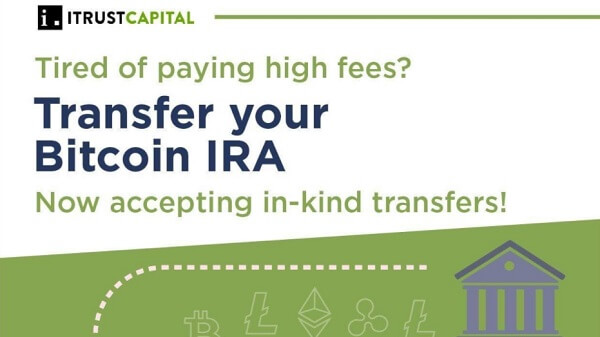 Coming every Saturday, Hodler's Digest will help you track every single important news story that happened this week. The best (and worst) quotes, adoption and regulation highlights, leading coins, predictions and much more — a week on Cointelegraph in one link.
Top Stories This Week
Tornado Cash developer Alexey Pertsev to stay detained until next year's hearing
Amid an ongoing investigation into crypto mixer Tornado Cash, the product's developer, Alexey Pertsev, will be subject to at least another three months of detainment, as per a court ruling this week. Earlier in 2022, United States authorities flagged Tornado Cash as a tool nefarious parties allegedly used to launder funds. Pertsev was detained for suspicions of foul play, although the situation has drawn controversy.
US Senate committee schedules FTX hearing for Dec. 1, CFTC head to testify
A U.S. senate hearing slated for Dec. 1 will aim to look into FTX and the events surrounding its downfall. Titled "Why Congress Needs To Act: Lessons Learned From The FTX Collapse," the hearing will feature Commodity Futures Trading Commission Chairman Rostin Behnam, among other witnesses. According to recent documentation from FTX's Chapter 11 bankruptcy case, FTX Trading Ltd. owes a combined sum of more than $3 billion to its 50 largest creditors.
Read also

Features
What it's like when the banks collapse: Iceland 2008 firsthand
Features
Crypto leaders are obsessed with life extension. Here's why
American CryptoFed registration at risk as SEC alleges filing anomalies
American CryptoFed DAO is at risk of losing its registration as a legal entity after the United States Securities and Exchange Commission (SEC) dug up anomalies in the Form S-1 registration statement filed by the firm in September. According to the SEC, the form lacks vital information regarding American CryptoFed DAO, such as audited financial statements and details about its business and management. CryptoFed was the first decentralized autonomous organization (DAO) to get legal recognition in the United States in July 2021.
Bankrupt crypto exchange FTX begins strategic review of global assets
Defunct crypto exchange FTX launched a strategic review of its global assets as part of its recent bankruptcy filing, attempting to maximize recoverable value for stakeholders. The assets of 101 of 130 companies affiliated with FTX are also being reviewed. According to John J. Ray III, the new CEO of FTX, the affiliates are solvent and can be sold or restructured in order to reduce losses.
Amber Group's co-founder Tiantian Kullander passes away at 30
Tiantian "TT" Kullander, co-founder of Amber Group, unexpectedly passed away in his sleep on Nov. 23, per a statement released by the firm. He was 30 years old and leaves behind a wife and a son. Kullander also sat on the board of the esports company Fnatic and founded KeeperDAO. Previously in his career, he worked in structured credit trading at Goldman Sachs and as an emerging markets trader at Morgan Stanley.  
Winners and Losers
At the end of the week, Bitcoin (BTC) is at $16,531, Ether (ETH) at $1,200 and XRP at $0.40. The total market cap is at $834.17 billion, according to CoinMarketCap.
Among the biggest 100 cryptocurrencies, the top three altcoin gainers of the week are Huobi Token (HT) at 43.84%, Curve DAO Token (CRV) at 23.52%, and Litecoin (LTC) at 19.45%.  
The top three altcoin losers of the week are Chiliz (CHZ) at -35.17%, Chain (XCN) at -21.83%, and Algorand (ALGO) at -16.09%.
For more info on crypto prices, make sure to read Cointelegraph's market analysis.
Read also
Features
Zooko's Triangle: The Human-Readable Paradox at the Heart of Crypto Adoption
Features
The Vitalik I know: Dmitry Buterin
Most Memorable Quotations
"If you go to a person who is not crypto savvy and you try to convince him to invest, especially in Brazil — the population has always been very skeptical of crypto. Now it's harder."
Thiago César, CEO of Transfero Group
"A general rule of thumb is if a company prints a token out of thin air and either sells it to retail, or relies on it as an asset, you should expect them to collapse eventually."
Samson Mow, CEO of JAN3
"The NFT space is sure to stabilize and consolidate around the strongest communities, then we will see a second generation of smarter, more sustainable NFT models."
Oscar Franklin Tan, chief financial officer and chief legal officer for Enjin
"If you see FUD out there – remember, our financials are public (we're a public company)."
Brian Armstrong, CEO of Coinbase
"I was initially a crypto skeptic, but […] I have come to believe that crypto can enable the formation of useful businesses and technologies that heretofore could not be created."
Bill Ackman, founder and CEO of Pershing Square Capital Management
"The recent implosion of FTX, a cryptocurrency exchange, has made it abundantly clear the digital asset industry has serious problems."
Letter from U.S. Senators Richard Durbin, Tina Smith and Elizabeth Warren
Prediction of the Week 
Bitcoin price levels to watch as traders bet on sub-$14K BTC
Bitcoin's price has largely struggled under $20,000 for much of November, according to Cointelegraph's BTC price index.  
Pseudonymous Twitter user The London Crypto sees possible further downward price action for BTC based on history. "BTC has made a 77% correction in this bear market, compared to 84% in 2013 and 83% in 2017," he tweeted on Nov. 21 with an accompanying chart.
"Studying our previous cycles high vs lows, we can estimate the low for this bear to be the $10k-$12k range, followed by a high of $175k in 2024-2025."
FUD of the Week 
HashFlare founders arrested in 'astounding' $575M crypto fraud scheme
Recently publicized court documentation revealed the arrest of Ivan Turõgin and Sergei Potapenko, founders of HashFlare — an allegedly fraudulent Bitcoin cloud mining operation. Started in 2015, HashFlare posed itself as a Bitcoin cloud mining company, but on the backend, its founders allegedly conducted multiple criminal acts, including numerous instances of wire fraud. HashFlare has seemingly not been active since 2019.
New York governor signs PoW mining moratorium into law
After passing multiple stages of approval in 2022, a two-year ban on proof-of-work (PoW) mining has been signed into law by New York's governor, Kathy Hochul. The moratorium means new PoW mining operations cannot open in the state unless they utilize 100% renewable energy. Current PoW mining outfits in New York also will not be granted license renewal during the two-year ban.
American regulators to investigate Genesis and other crypto firms
Genesis Global Capital's saga saw another chapter on Nov. 25, after the Alabama Securities Commission disclosed an ongoing investigation against the company and several other crypto firms in different U.S. states to determine whether they influenced investors on crypto-related securities without obtaining proper registration. Genesis has been in the spotlight since it revealed around $175 million worth of its funds are stuck in an FTX trading account. The company hired restructuring advisers to explore all possible options to avoid potential bankruptcy amid difficulties raising funds for its lending unit.
Best Cointelegraph Features
Election tally: Does blockchain beat the ballot box?
With election integrity under assault in the United States and elsewhere, is blockchain technology part of the solution? Greenland explores voting options.
My story of telling the SEC 'I told you so' on FTX
I asked the SEC to take public comments on issues related to cryptocurrency custodians and intermediary conflicts. The SEC declined to take my advice, and FTX fell apart soon after.
House on a hill: Top countries to buy real estate with crypto
More countries are beginning to allow real estate purchases using crypto, here are some of the top destinations.
Subscribe
The most engaging reads in blockchain. Delivered once a
week.